More than 5,800 people commented on new dairy industry guidelines
Last year, the VHS and other animal organizations across Canada spoke out for animals during a consultation period on the National Farm Animal Care Council's (NFACC) Dairy Cattle Code of Practice, which provides guidelines for the care of dairy cows on farms across Canada, and shared tips on how to call for much-needed improvements during the public comment period. Thousands of animal advocates and concerned consumers responded, and the Code received a record-setting 5,800+ comments!
The NFACC has now released its updated Dairy Cattle Code of Practice. The strong public response during the public consultation prompted some positive changes, including stronger restrictions around abusive handling, changes to housing models, and a ban on branding. However, several areas of the Code still fall short of expectations.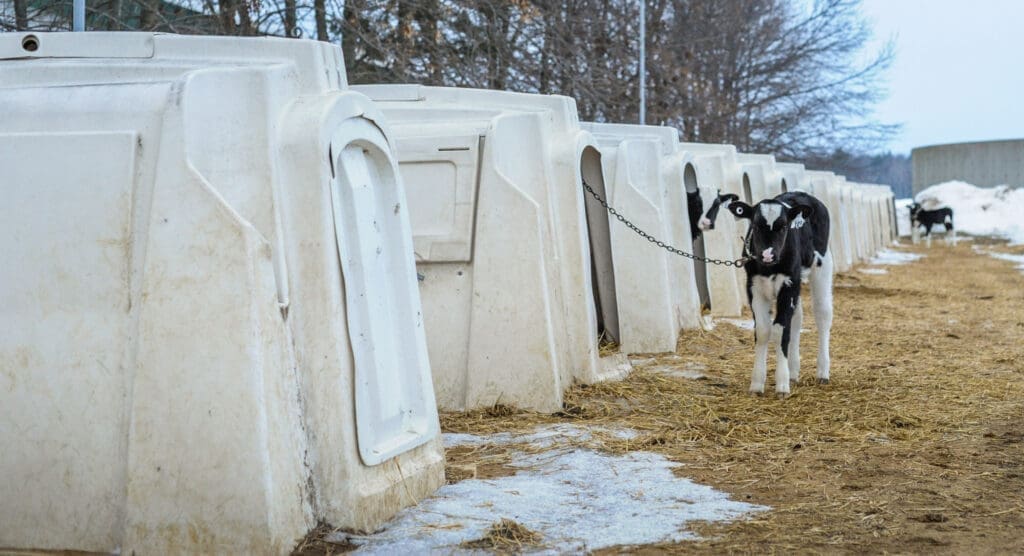 Click or tap the headings below for more details on each section.
A primary area of concern noted in the public consultation was around calf housing. Approximately 63% of farms currently keep dairy calves in individual housing. This lack of social and physical contact with other calves can cause significant stress for calves. Despite this, the new code continues to allow calves to be kept in individual housing until 2031, at which point they are to be housed in pairs or groups by 4 weeks old. The stressful industry practice of separating mothers and newly born calves was unaddressed in the new code.
Currently, cows can be kept tethered in individual stalls and there has been no requirement for access to pasture, outdoors or a sheltered, bedded pen. Under the new code, continuous tethering will be prohibited by 2027, at which point cows must be provided "sufficient regular opportunity for freedom of movement". What this means in practice is yet to be determined.
The NFACC acknowledges that cows are "naturally motivated to access pasture and graze" and that "regular access to open outdoor areas or bedded packs improves hoof health, reduces the frequency and severity of injuries, and can reduce the occurrence of lameness". Despite this, the new code does not require that cows be provided access to sheltered, bedded packs, exercise yards, or the outdoors.
The public consultation period for the dairy code began just weeks after catastrophic flooding hit British Columbia in 2021. This emergency, along with the record-breaking heat waves from earlier that same year, claimed the lives of 1.3 million farmed animals and reiterated the need for emergency plans for farms. Shockingly, the new code fails to include any requirements around emergency planning.
Transport is a particularly stressful process for farmed animals, especially for dairy cows who may be in poor condition after their milk production declines or who are ill or injured. Still, the new code allows compromised (e.g. mild lameness, not fully healed from a procedure) or still lactating cows to be transported, putting them at risk of further injury and suffering.
The new code prohibits abusive handling, which it defines as including but not limited to "kicking, beating, striking, tail twisting, dragging, improper use of a prod, and forcefully pulling cattle by the tail, head, or neck."
The new Dairy Code of Practice can be read in full here (opens as a PDF).
Monitoring, enforcement and penalties needed
To protect the well-being of dairy cows, the new Code of Practice must be paired with independent, proactive third-party oversight; enforcement; and effective penalties.
The 2021 undercover investigation of Cedar Valley Farms, a B.C.-based dairy farm, reiterates the importance of proactive monitoring to deter and catch cruelty violations. Footage from the farm revealed serious instances of illegal animal abuse. A former employee of Cedar Valley Farms, who worked there for four years, told media he'd repeatedly reported the abuse, but nothing changed.
Take action
Now is your chance to speak up for farmed animals! The B.C. government is currently conducting a review of the province's farmed animal welfare framework. Use the quick action tool below to send a message to B.C.'s Minister of Agriculture.