The new year is here, and with it comes an opportunity to build on last year's great progress for animals! Here is a look back on some of the amazing highlights and achievements that were made possible in 2022 because of animal allies like you.
Wins for wildlife
B.C. permanently restricts deadly rodent poisons
In July 2021, the provincial government introduced an 18-month partial ban on some of the deadliest rodent poisons. Animal advocates continued to speak out throughout the temporary ban about the dangers of rodenticides to wildlife and pets—more than 2,500 British Columbians signed the Vancouver Humane Society's petition in support of a comprehensive rodenticide ban, and more than 1,300 individuals participated in the provincial government's public consultation! The VHS also submitted a report in support of a comprehensive rodenticide ban.
On October 28, 2022, the government announced it would be implementing permanent restrictions on second-generation anticoagulant rodenticides. This was a momentous first step in protecting wildlife and companion animals from dangerous rodent poisons—but it is not the last step. Concerned animal supporters can continue to advocate to address gaps in the regulations by following these tips.
Province updates hunting regulations
In early 2022, the VHS shared information to help animal allies to voice their support for stronger hunting and trapping regulations during the government's public consultation period. Many advocates participated, and following the consultation the Ministry of Forests introduced updated regulations that included the introduction of new No Hunting areas as well as region-specific restrictions on baiting, using wireless cameras for hunting, and more.
Advocacy for animals in entertainment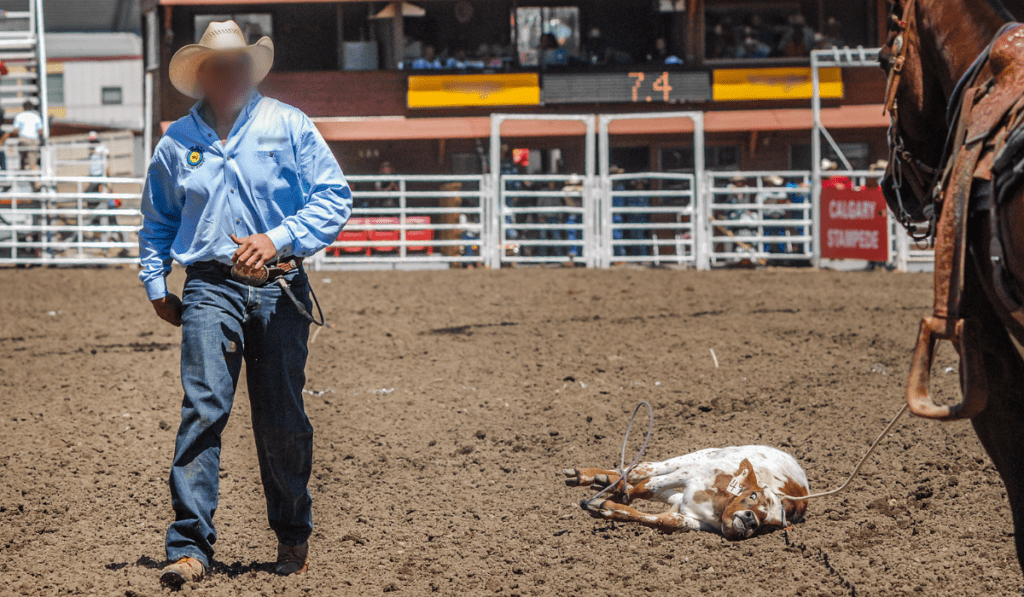 Thousands speak out against rodeo cruelty at the Calgary Stampede
Last year, the Vancouver Humane Society collaborated with concerned Calgarians to create RodeoTruth.com, a website that aims to expose the evidence-based realities of rodeo and other animal events at the Calgary Stampede. More than 9,600 people visited the website in 2022 to learn about the realities of rodeo cruelty, and more than 2,900 people took the #SayNoToRodeo pledge.
Following a tragic chuckwagon incident that claimed the life of a horse, the VHS spoke out against the Stampede's continued hosting of the deadly event in interviews with media outlets including City News, CTV Calgary, and the Daily Hive.
A Research Co. poll commissioned by the Vancouver Humane Society during the Stampede revealed that the removal of the rodeo and chuckwagon events from the Calgary Stampede program would have virtually no impact on attendance rates and would bring in new crowds.
British Columbians rally against a new rodeo
After several years that saw the decline of cruel rodeo events in B.C., a new rodeo event was sadly introduced in Langley Township in 2022. The VHS spoke out against this inhumane and unnecessary event in interviews with the Langley Advance Times, Global News, the Jill Bennett Show, and more. Nearly 3,000 members of the public signed the VHS's petition calling on decision-makers to prevent the new rodeo.
Video footage captured at the rodeo shows stressed and frightened animals being roughly handled and deliberately agitated into fleeing and bucking. Following the event, the VHS launched a quick action that all British Columbians can take to help prevent inhumane rodeo practices from coming to their community.
Change for animals in captivity
Provincial decision-makers agree to meet to discuss captivity regulations
89% of British Columbians oppose the international trade of exotic animals to be kept on display in permanent captivity in zoos and aquariums, yet provincial regulations continue to allow the keeping, breeding, and import of wild and exotic species. These outdated regulations have enabled ongoing issues to continue, as highlighted in video footage of abnormal behaviour from animals at Metro Vancouver's two major animal attractions, and by two recent high-profile incidents at the Greater Vancouver Zoo which put animals and humans at risk. 
More than 5,400 animal supporters signed a petition calling for the much-needed updates to captivity regulations. Thanks to this strong push for support, along with an in-depth report outlining key recommendations, the VHS was able to schedule a meeting to raise concerns and suggestions directly with provincial decision-makers! The meeting will take place today, January 12th. 
Care for companion animals
A record number of animals receive veterinary assistance through the McVitie program
Between rising costs and a growing number of people experiencing barriers to veterinary care, more animal guardians than ever are needing extra support to keep their beloved companion animals healthy without surrendering them to the already-overburdened shelter and rescue system.
Thanks to the generosity of donors, the VHS's McVitie program was able to provide urgent veterinary assistance to more companion animals than ever before! 629 animals received assistance through the program in 2022, enabling animals like Precious, Chipper, Shailoh, and Copper to stay with their families who love them.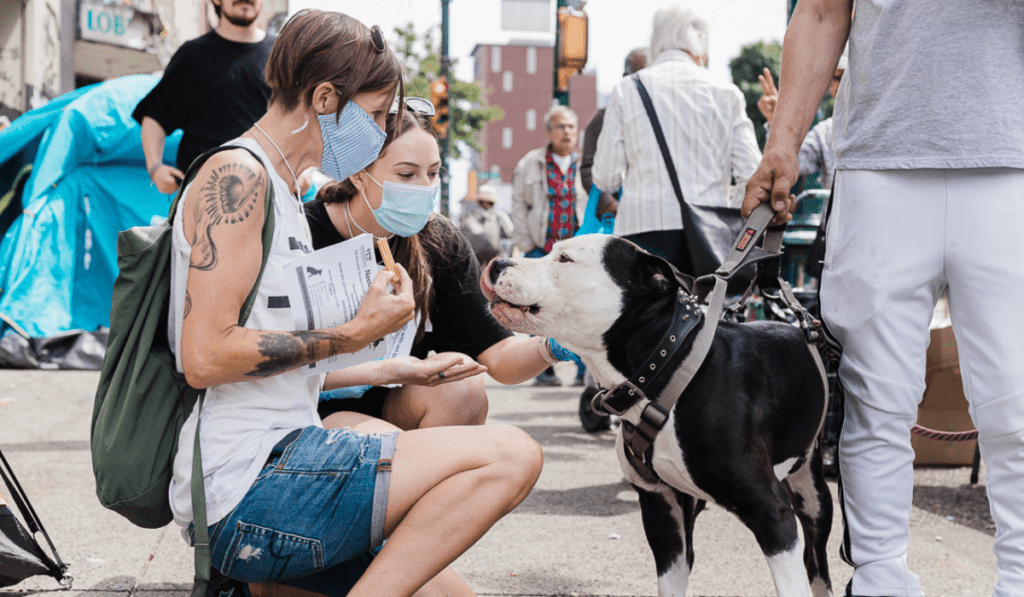 Animal heroes break down barriers at Because They Matter
On July 24th, 22 participants took to the streets of Vancouver's Downtown Eastside to hand out much-needed pet supplies and share essential veterinary support resources with animals and their guardians who spend their days on the streets. In all, Because They Matter event participants handed out thousands of pet supplies and around 300 pamphlets about the Vancouver Humane Society's veterinary assistance programs! Participants also raised more than $15,000 donated by generous supporters to help make these vital assistance programs possible.
Protections for farmed animals
Federal government begins enforcement of new animal transport regulations
Every year in Canada, approximately 14 million animals suffer injuries and 1.6 million die during transport journeys that are often long-distance and in extreme weather conditions. Despite updates to farmed animal transport regulations being introduced in 2020, the federal government delayed full enforcement of the requirements for two years. More than 2,500 animal advocates pushed back against the possibility of further delays, and thanks to the strong call for action, the CFIA announced that enforcement of new regulations would begin on February 20, 2022.
B.C. announces review of farmed animal welfare framework
Following the release of undercover footage revealing egregious cruelty on a dairy farm in Abbotsford, the VHS launched a public campaign calling for greater protections for farmed animals. More than 2,400 individuals took the quick action to demand change from the B.C. government. The VHS also supported advocates in speaking up for animals in the dairy industry by providing a guide for submitting comments to the National Farm Animal Care Council's (NFACC) "Dairy Codes of Practice". The Dairy Code, which was last updated in 2009, serves as a guideline for dairy industry practices.
In late 2022, the Country Life in BC agricultural newspaper confirmed that The Ministry of Agriculture would be conducting a review of the farmed animal welfare framework. This review is an important opportunity to push for real action to protect farmed animals from cruelty and suffering. Read the VHS's open letter to the Ministry of Agriculture calling for true public transparency on farms and changes that would make a meaningful difference in the lives of the millions of sentient animals raised for food in this province.  
Donors make life better for animals with VHS & The Happy Herd on Giving Tuesday
On Giving Tuesday, the VHS partnered with The Happy Herd Farm Sanctuary to raise funds for vital animal supplies, programs, and advocacy work. Animal lovers supported animals through both organizations by donating or shopping at participating businesses, including Panago Pizza, who offered discounted plant-based pizzas across B.C. and donated $1 for each plant-based pizza sold.
Wonderful supporters like you raised an astounding $22,900 for animals! These generous donations will help rescued farmed animals to stay healthy and safe in their loving forever home, enable companion animals to get the life-saving veterinary care they need, and ensure the work to create a more compassionate world for all species will continue.
Canadians call for an end to inhumane live horse exports
More than a year after the federal government committed to end the cruel live export of horses for slaughter, these gentle animals continue to be shipped on long, stressful journeys during which they can go 28 hours without food, water, or rest. In 2022, more than 19,000 Canadians signed onto a federal e-petition led by Jann Arden calling on the government to follow through on their promise to end this inhumane industry. Your support is needed to help push this change across the finish line! Read the VHS's piece in the Daily Hive, Why hasn't Canada stopped horses from being shipped to slaughter overseas?, to learn more about this urgent issue.
A kinder future for all species
Thank you for helping animals in 2022! With your continued support, we can all continue to work toward a kinder future for animals in 2023. Can you keep the momentum going by taking action on the current campaigns to end animal suffering or making a donation toward vital animal programs and advocacy?