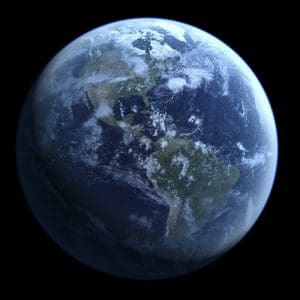 Today marks the 48th annual Earth Day celebration and around the world events and efforts will be taking place to draw attention to the need for stronger environmental protections.
As the global community reflects today on the increasingly sensitive state of the planet and what role we as individuals can play in tackling what can sometimes feel like an overwhelming issue, it's important to remember that every time we sit down to eat, we have an opportunity to stand up for a better world.
Animal agriculture has been identified as a leading contributor not only to climate change, but to air and water pollution, water use, land degradation, deforestation and biodiversity decline.
In fact, animal agriculture is responsible for more greenhouse gas emissions than the entire global transportation sector. This is because animal-based foods are incredibly inefficient to produce and are very resource-intensive. The processes involved when it comes to raising, transporting and slaughtering animals for food are responsible for potent greenhouse gas emissions including carbon dioxide, methane and nitrous oxide. To put this in perspective, beef production requires 20 times more land and emits 20 times more greenhouse gas emissions per unit of edible protein than common plant-based protein sources such as beans, peas and lentils.[1]
The production of animal-based foods also requires and pollutes large amounts of water. Agriculture accounts for 92% of our global freshwater footprint; approximately one third relates to animal products.[2] The water footprint per gram of protein for milk, eggs and chicken is approximately 1.5 times larger than for pulses (beans, lentils, peas). For beef, it is six times larger than for pulses.[3] The sheer volume of animal waste, along with fertilizers and pesticides used for feed crops, as well as hormones and antibiotics used on livestock create major water pollution issues. These pollutants seep into waterways, threatening water quality, ecosystems and animal and human health.[4]
Meanwhile, animal agriculture is a key contributor to land degradation and deforestation, with one-quarter of the earth's land surface (excluding Antarctica) being used as pastureland. [5] The conversion of natural habitat to accommodate livestock and feed crops puts immense pressure on wildlife that struggle to survive in increasingly fragmented and degraded environments. Ineffective and ill-informed cull programs put additional pressure on predator populations, due to the perceived threat they pose to livestock profits.
While our diet can be a major part of the problem when it comes to protecting the planet, that also means it is a crucial part of the solution. A 2016 Oxford Martin School study found that the adoption of global dietary guidelines would cut food-related emissions by 29%, vegetarian diets by 63%, and vegan diets by 70%.[6] By reducing and eliminating resource-intensive animal products from our diet and supporting efforts to make more sustainable plant-based foods widely accessible, we can drastically decrease our individual and societal environmental footprints.
This Earth Day, join the growing number of people around the world who are recognizing the power behind what we put on our plate. Take our Meatless Monday pledge for recipe ideas and download our Live Well booklet to learn more about a plant-based diet. You can also support VHS's efforts to introduce more healthy, humane and sustainable plant-based menu options in schools and other institutions.
[1] http://www.wri.org/blog/2016/04/sustainable-diets-what-you-need-know-12-charts
[2] http://waterfootprint.org/media/downloads/Gerbens-et-al-2013-waterfootprint-poultry-pork-beef_1.pdf
[3] http://waterfootprint.org/en/water-footprint/product-water-footprint/water-footprint-crop-and-animal-products/
[4] http://www.fao.org/3/a-i7754e.pdf
[5] http://www.wri.org/blog/2016/04/sustainable-diets-what-you-need-know-12-charts
[6] https://www.oxfordmartin.ox.ac.uk/news/201603_Plant_based_diets