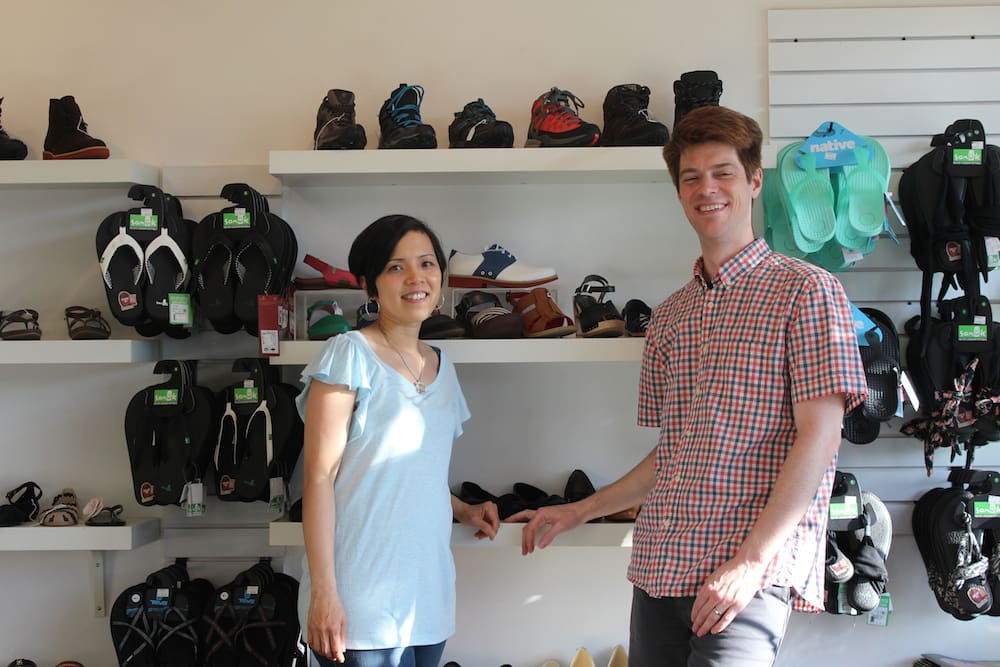 .
Nice Shoes, Vancouver's only vegan shoe store, was opened in 2011 by animal advocates Glenn Gaetz and Joanne Chang. The store carries 100% vegan shoes as well as purses, bags, belts, wallets and other cruelty-free products.
VHS supports the growth of cruelty-free businesses and we were interested to find out more about how Nice Shoes is faring in Vancouver's competitive retail market. Here's our Q&A with Glenn and Joanne.
.
VHS: Can you say a bit about what motivated you to open Nice Shoes?
G&J: As shoppers, we were motivated by the anxiety and frustration we felt every time we walked into a shoe store knowing that the salesperson couldn't answer our questions about materials – or even cared to try. As activists, we were motivated by our desire to normalize the vegan lifestyle.
VHS: How difficult was it to start a business that was the first of its kind in Vancouver?
G&J: Starting a business was the easy part! Vancouver has a vibrant vegan and animal rights community and everyone is excited when a new vegan business opens. The challenge comes in maintaining a profitable business and growing our customer base.
VHS: How is the business going now and how do you feel about the future of Nice Shoes?
G&J: We think there's a bright future for Nice Shoes as veganism seem to be going through a growth spurt. We know this because a large portion of our customers are new vegans who have only made the transition within the last couple of years.
VHS: Who are your customers? Is there a predominant demographic?
G&J: Our main customers are vegans and vegetarians, but that in itself encompasses a huge range of people. We see vegans of all ages and professions. We also get quite a few non-veg customers who simply like the styles we carry.
VHS: Some vegan shoes are not cheap. Is affordability an issue?
G&J: Since our main goal is to normalize veganism, we are very thoughtful in selecting brands that are familiar and affordable to most people. We do carry some exclusive vegan brands (which tend to be pricier), but they are a small percentage of what we carry. Most of the shoes in our current spring/summer collection range from $30-$150. We also have great sales throughout the year and a student discount program.
VHS: Do you think the market is growing for cruelty-free products?
G&J: Absolutely! We find that "vegan leather" is now a popular term used proudly by mainstream brands to sell products. And a lot of these brands are rolling out vegan product lines and marketing them as such.
VHS: What do you think needs to happen to encourage consumers to make more ethical choices?
G&J: Consumers want nice looking things that are decent quality at a reasonable price. If the products can match what they are looking for, they will switch without even trying. We have a few loyal non-veg customers who might not even know that our products are vegan. By offering alternatives that look great and are equal to, if not better than, their animal product counterparts, we are lowering the barrier of entry to a vegan lifestyle. All things being equal, who wouldn't choose the cruelty-free option?
VHS: How do you stay positive in a world where animal-based products are still so predominant?
G&J: We've been vegan for 18 & 20 years. In that time we've seen a lot of change. Twenty years ago, vegan shoes were horrible plastic things that looked atrocious and felt like cardboard. When we look at the selection and the quality of products available nowadays, we can't help but smile. Animal products may still be predominant, but the alternatives are gaining ground every day.
VHS: What's your most popular product?
G&J: Since the weather is getting nicer, women's sandals are flying off the shelves. And hiking shoes are in high demand as people are starting to hit the trails.
VHS: What do you find most rewarding or satisfying about running Nice Shoes?
G&J: Nothing makes us happier than getting a positive feedback from our customers – it really makes all the hard work worth while. And of course, all the adorable dogs who visit us in the store.
Nice Shoes is located at 3568 Fraser Street (between E 19th & 20th) in Vancouver.
Tel: 604-558-3000
info@niceshoes.ca