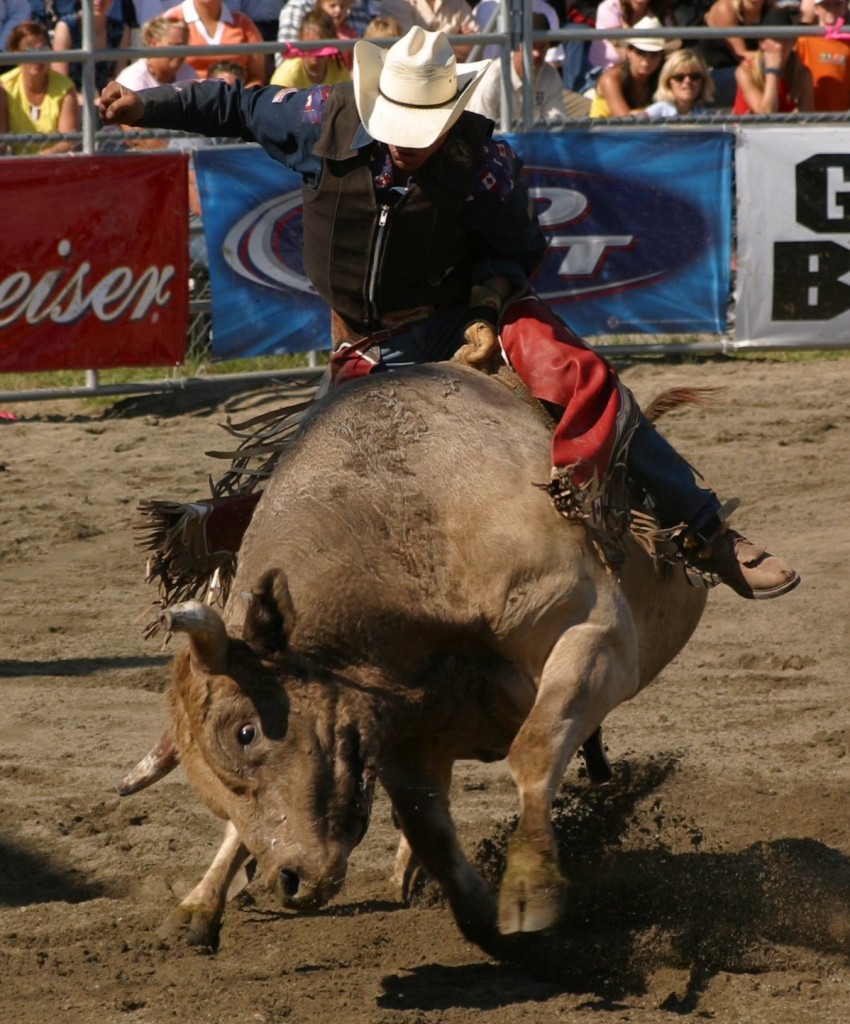 The rodeo industry likes to say that bucking bulls and horses only work a few seconds a year and otherwise lead pampered lives. They also like to talk about the animals being "born to buck."
But if you watch this video you'll see that bucking bulls are tormented at a young age to "train" them to buck. A metal weight (called a dummy) is placed on their backs and is only released when they buck their hardest. The animals are clearly distressed and want the weight off their backs. What animal wouldn't? Can you imagine doing this to dogs? It's only because we are conditioned to seeing livestock treated badly that there is no public outcry against such practices. Yet cattle and horses, as prey animals, are especially likely to suffer fear and stress from such treatment. And they are subjected to this distress for the trivial purpose of amusing humans (and to make money for a few of them).
It's true that bucking bulls and horses are deliberately bred to have a genetic predisposition to buck. But even with such a predisposition, it's still necessary to torment them with "dummies." And even that's not enough to ensure they buck for the crowds – there's also the flank strap, which is tied around the animal's hindquarters to cause further stress. It's only released when the animal stops bucking.
The whole bucking stock industry is designed to make animals behave unnaturally. Is it not perverse that this industry, including the Calgary Stampede, strives to breed horses that no one can ride? It's the exact opposite of what real cowboys have historically sought to achieve. That's because rodeo has little to do with the genuine traditions of real ranching. It is a circus and, like all circuses, it exists to exploit animals for the sake of entertainment.
And what happens to the animals that are not good enough for this circus? As we now know, there's a good chance they'll end up in the slaughterhouse.
More information on the Calgary Stampede.