How would farmed animal species live their lives if they weren't being raised in the animal agriculture system?
Previous episodes have looked at how the needs of farmed animals are not being met in the industrial animal agriculture system; but how do these species behave when they are living lives that are happy and fulfilled? In this episode of The Informed Animal Ally's series on animal well-being, the VHS's Chantelle Archambault and Amy Morris discuss the natural behaviours and needs of farmed animals like pigs, chickens, cows, and sheep.
Note: This written discussion has been edited for length.
How we learn about farmed animal behaviour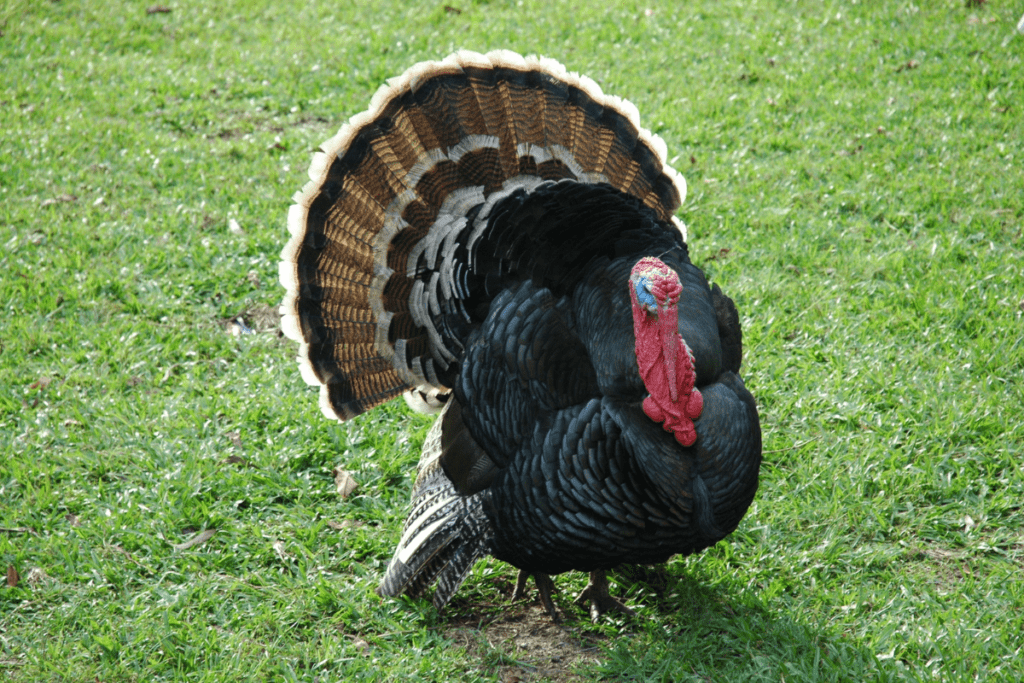 Chantelle: Over the past two months, we delved into what good welfare looks like for companion animals when it comes to things like care, play, and training. This week, we're going to branch out from that and look at what a good life looks like for the species that are currently raised for meat, milk, eggs, and wool.
We'll talk about some of the science around farmed animal behaviors and needs, and we'll touch on ways those needs aren't being met in today's animal agriculture system. But if you'd like to hear a more in-depth discussion on that aspect, I'd encourage you to go back to our second episode, which looked into farmed animal cruelty laws and practices.
Amy: Where does knowledge about farmed animal behavior typically come from?
Chantelle: We can learn a lot about what these animals' natural behaviors would look like by observing non domesticated versions of farmed animals in the wild.
The farmed animal species we'll be talking about today have been domesticated and selectively bred for thousands of years. So those exact breeds of animals don't typically exist in the wild, but there are wild or feral animals that line up with those domestic breeds. A lot of knowledge also comes from just observing farmed animals and research studies that are funded by educational institutions or government or even the industry. So there can be bias there.
Amy: Yeah, I really love this topic because looking at animal behavior, I see more about what we have in common with animals, being animals ourselves, than our differences. Humans and other animal species all we're young need bedding and homes, social structures. We all groom and maintain our bodies, we need to find food and water, and we need engagement with our environment through movement. There's this othering that happens in society as a result of non-human animals being domesticated for food, but now that we're not dependent on eating animals or their products, we have an opportunity to re-examine our understanding of farmed animals.
I'm hoping with this podcast and all the actions that you take in your everyday life, we can reflect on what information gets buried in order for people to be more comfortable with animal oppression. It was only once I really spent time in person with pigs, cows, chickens, sheep, and goats, that I began to really understand that our similarities outweigh our differences.
We share fear of change, fear of the unknown, and fear of death. We share joy at good food and opportunities to stretch our legs. We develop favorite places to spend our time. We like to choose our own friends, and we get along better with some than others. We go through phases and we make different decisions when we're young and then when we're old and have had the opportunity to develop more wisdom and we pass on our wisdom to our young.
Chantelle: I'm so excited to dive into some of the specific species to, to better get a picture of what you're describing. So what animal should we start with?
Amy: Let's start with pigs.
Pigs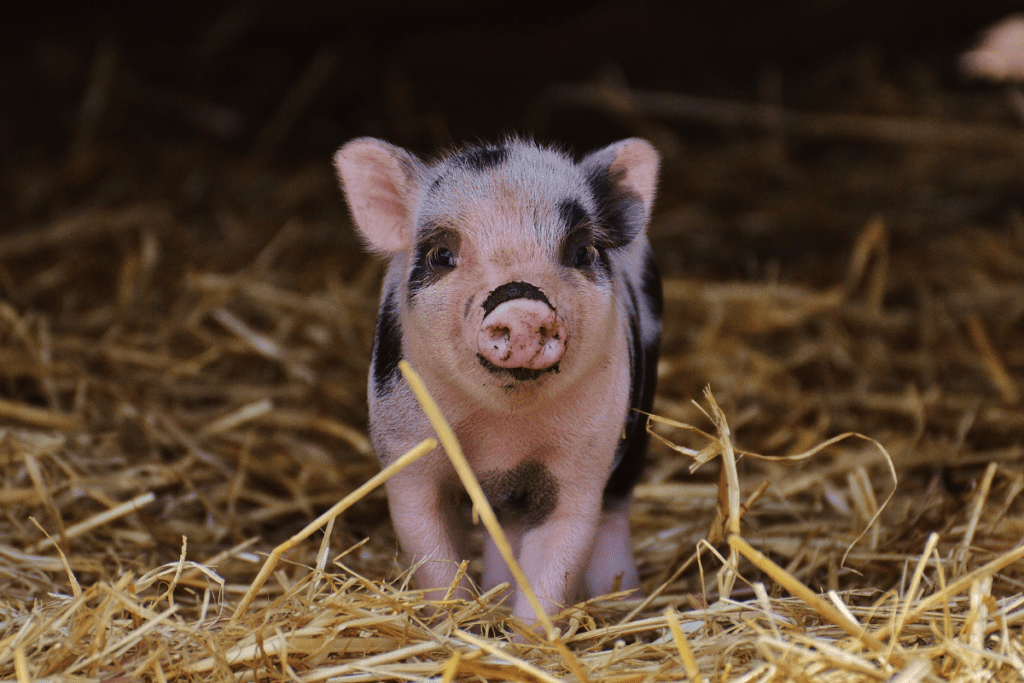 Chantelle: I love learning about pigs so much. These are one of the animals that kind of tow the line between farmed animals and companion animals because people have started keeping pigs more as pets while the breed typically kept as pets is slightly smaller potbelly pigs. It's important to note that the breeds raised for meat are not fundamentally different. In a lot of ways, pigs and other animals that are raised on farms are very similar to the animals that most people consider part of the family, like dogs.
Pigs are curious. They have problem solving skills. They're social. They form complex relationships. They have favorite people. They have favorite animals. They feel fear. They feel pain.
Pigs in the wild
When we're looking for an analog to domestic pigs in the wild, we can look at the behaviors of feral pigs and wild boars. And just for a little background on what that means, wild boars are essentially the ancestors of domestic breeds of pigs. While pigs who are released or escape into the wild will become feral, they can grow tusks, they'll grow thicker hair, and they'll become more fearful of humans.
Amy: Yeah, and this all depends on their genetics, how their bodies are capable in terms of epigenetics. So there are some nuances there.
Pig socialization & rearing young
Amy: We know both in the wild and on farms, pigs are very social animals who live in small to medium size groups together called sounders. Each group can have kind of one to six female pigs or sows along with their young.
Wild sows experience motherhood very differently than pigs on industrial farms. When they have a choice, they prefer to give birth in sheltered, secluded spots where they raise their piglets on their own for the first one to two weeks. Within the first day, mother sows and piglets will recognize each other by smell. Piglets also recognize the unique grunt calls of their mother, and so they know which pig to go to when it's time to nurse.
As they get a bit older and start exploring outside of the nest, they'll call to each other if they get separated. Piglets really like to be close to their mothers, they'll snuggle up to their mother and litter mates for warmth. After a week or two, the mother and piglets will rejoin the group and the piglets will be fully participating in group life by eight weeks old. All of the pigs will interact and play with each other, but siblings do maintain close bonds into adulthood.
Are pigs aggressive?
Chantelle: Some people in the animal agriculture industry believe that pigs are naturally aggressive, but that's really because pigs can become aggressive and irritable in stressful conditions; humans do the exact same thing.
In the wild, pigs are mostly peaceful. They form stable social relationships and they live in harmony together. The groups of sounders are not territorial. Many pigs may live in the same area if there's enough food for all of them. Pigs who branch off might stay close to their mothers, and together the family groups have been found to form herds of up to a hundred pigs.
Whereas we've talked about the matriarchal groups (sounders), adult males are more nomadic and the dominant males in an area will generally force the younger males to leave their family groups around seven to 18 months old.
Natural habitats for pigs
Amy: And in terms of their physical environment, pigs are really adaptable.
They can live in most places, from forests, to marshes, to grasslands. They like to be in or near places with dense cover. They tend to avoid areas with a lot of ground frost because it makes it difficult for them to forage roots and tubers.
What do pigs eat?
Amy: Pigs are omnivores. They mostly eat whatever plants and mushrooms are available in their area, but they will hunt for small animals or scavenge meat from dead animals. They spend about 75% of their day rooting and foraging.
If we compare that to industrial animal agriculture, farmed pigs can eat the food they're given in only 15 minutes in a day or less. They tend to spend much more time resting when there's a lot of food in an area and they don't spend as much time traveling to find it or when it's cold and they need to conserve energy.
Pigs are very social eaters. They prefer to eat together as a group, and they'll often share food and take turns eating. I think the biggest takeaway on this is knowing how vastly different it looks to be a pig roaming around all day versus having a lot of boredom and time that's unused for any kind of social or physical activity in industrial settings.
Chantelle: Yeah, absolutely. The way that they spend their time is very different. The environment that they stay in is very different.
Do pigs like mud?
Chantelle: You're probably familiar with the image of pigs playing in mud, and you may have also heard that pigs like to be clean. If you're wondering which of those is true, it is both. They're very hygienic. They keep clean by rubbing off dirt on hard surfaces or swimming in the water and in the wild, they'll often create separate areas for sleeping, eating, and eliminating waste. And if you have looked at industrial farming systems, things like gestation stalls, there's absolutely no way for them to do that.
But on the other hand, they also like to wallow in mud or water, and the reason they do that is to regulate their body temperature since they don't have many sweat glands. So they'll wallow if they need to keep cool. And when they need to keep warm, they'll huddle together in communal nests.
Pig nesting
Amy: And speaking of nests, I love thinking and talking about pig nests. When pigs are pregnant, they take a lot of time to build the perfect nest, to birth their young into. I bet you think of nesting habits of, when you talk about soon to be human parents, it's referring to birds. But when pregnant pigs want a home for their family, they build a really nice space. And in captivity, the barn conditions means that they don't get to build the nests. So out of frustration, they end up chewing the bar of the container they're in until they end up having problems with their mouth and teeth.
Chantelle: It's really tragic when you look at the disparity of what a good life looks like for pigs expressing their natural behaviors and then the conditions that most of them are living through in the modern farming system.
I think that covers pig behaviour, so shall we move on to cows?
Cows
Amy: I've always had such a soft spot for cows. I've had the privilege of spending time with cows in sanctuary that are social. I've also been around cows that were terrified of me. I later figured out why that was; their handlers used sticks to hit them and make them move in down the line to get vaccinated and one handler even jumped his full body weight on a calf in frustration when the calf wouldn't get up. This was on an organic, free range farm.
I try not to remember those moments very often. I try to focus on the cows that do get to live their ideal lives.
Cow socialization & rearing young
Amy: Cows bond so strongly with their young, the new mom will nuzzle and lick her calf clean, making a sound that encourages the calf to get up and start nursing right away. They'll provide milk to their calf and spend time together for about a year and sometimes even more before they make the decision to wean them. Suckling increases the bond between the mother and the calf, and that releases oxytocin. So as a kind of converse situation, in intensive farming, calves are removed from their mothers at birth and only fed intermittently rather than the free feeding they would have normally.
Cows that get to continue to suckle their young have a significantly reduced risk of post calving diseases and clinical mastitis. And clinical mastitis is essentially a condition of the udders that is really common on intensive farms.
Chantelle: Definitely. Looking at their sleeping habits, cows can sleep anywhere, but just like humans, they prefer soft bedding. This reduces injuries and health issues such as mastitis and hock sores; they do well on straw bedding. Cows live in a herd with individual and long-lasting social relationships that exist between cows and the herd.
They can recognize up to 50 other cows and they can remember them for several years. They'll typically follow the decisions of the oldest and most experienced female cows. The ancestors of modern day cows were called aurochs. The social structure of aurochs was based on cooperation, communication, and mutual support with females playing a key role in the organization and leadership of the herd.
Bulls would only join in the herd during the breeding season. Grooming behavior is also social with cows using their tongue, teeth, and horns to clean and groom the hair and skin of other cows. And just like humans, they experience oxytocin from those interactions. They also self groom by rubbing against trees or rocks or other objects to remove dirt and insects and dead skin.
Cow grazing & roaming
Amy: When it comes to eating, cows like to get a variety of nutrients and are highly adaptable to food sources. They are known to have an excellent memory and can remember the location of food and water sources for several years. We know that aurochs would travel long distances to find good food and water sources.
I can say from my experience of being on a free range farm in the mountains, that cows still like to roam big distances in their grazing. In intensive farming, cows can be tied up in barns or packed into dusty feed lots. That means they don't get any opportunity to do one of their favorite activities, which is grazing. Cows also have an excellent sense of smell, and they can detect orders up to 10 kilometers away.
As a side note, this is why dogs often roll in feces or fishy smells because wolves would hide their scent in order to get a better chance at hunting animals like bison and aurochs.
Cow communication
Cows communicate with each other through a range of vocalizations, body language, and physical contact. They use different vocalizations to indicate hunger, distress, and excitement.
They're creatures of habit, they prefer to follow a routine and changes in their environment or routine can cause stress and anxiety.
Chantelle: I definitely can sense a familiarity between that and my companion cat. Cows are so fascinating to talk about, but I think that's a good overview of them and their behaviors. Let's move on to chickens.
Chickens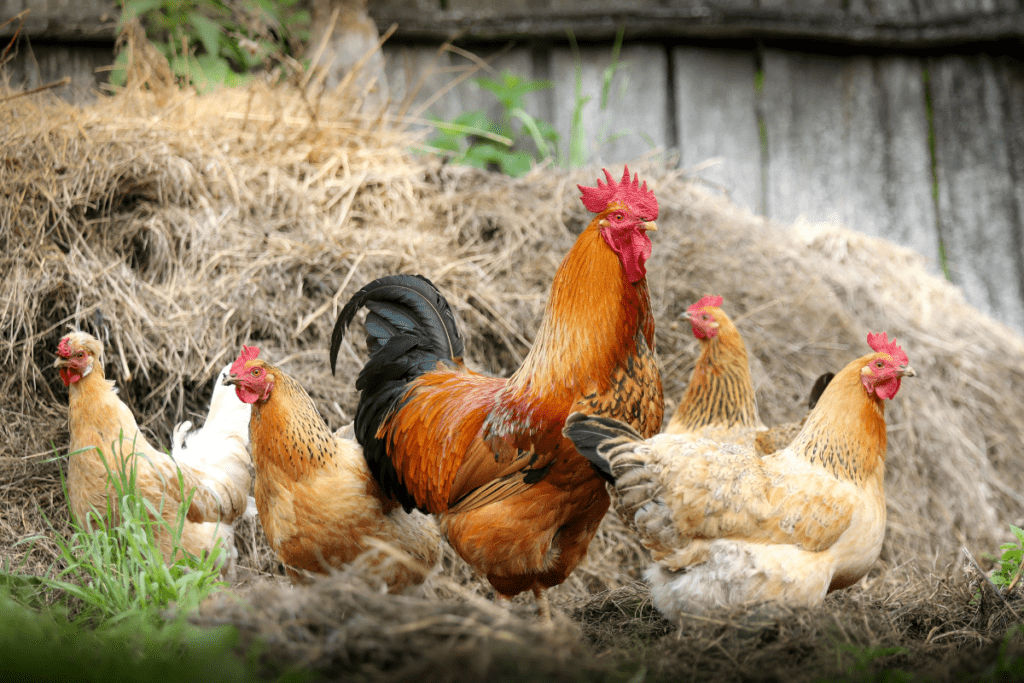 Chicken socialization and behaviour
Amy: I find chickens to be the most interesting and complex of farmed animals. They have this reptilian look descended from the red junglefowl, a wild bird that's native to Asia. But they also have really complex social structures. I spent some time on a farm that had a flock of rescue chickens, and the biggest rooster was huge.
He had this sizable group of hens that he cared for, but then the other roosters would pair up with one or two hens and keep their distance. I would often see them perched up a few branches in a tree, getting a break from the sun. And chickens also love to spend their time dust bathing in the sun, getting bugs out of their feathers, and they often fall asleep after a good dust bath, which is really cute to see.
They spend their days foraging and as omnivores, they'll eat bugs and worms as well as grains. They love fruit and it's a great treat for them on summer days because they can get quite warm.
Egg laying for hens in nature
Chantelle: Chickens in nature would lay 20 to 30 eggs in a clutch all at once, once a year. And when they would do that, they would find a really hidden spot that feels safe and away from predators.
They would keep those eggs warm and do their best to stay alive, leaving only for short periods to get food and water. If you've ever heard a chicken lay an egg, you can tell it is an intense and painful process for them every time. Chickens will stay with their chicks until they're big enough to survive on their own.
They pass on information about their environment, like what bugs are tasty to eat, what places are safe to find shelter. They like to wrap their feet around a branch or a wooden bar at night, and balance as they sleep in a place that has good overhead cover to keep them safe from predators. They also have a range of vocalizations, like clucking, crowing, squawking, and they'll use those different vocalizations to communicate with each other.
Chickens in intensive farming
Amy: Yeah, and this is really juxtaposed against intensive farming situations, which are really tough to observe if you have seen happy chickens living out their lives. Chickens in intensive farming almost always lack good perches and opportunities to dust bathe. They don't get reared by a hen, so it's essentially this weird situation of placing 25,000 orphans in a room together, and they just don't develop any sense of order and structure that they would have when they're with their family.
As a result, chickens really often end up boredom feather plucking each other so that they're often barren. I've seen barns where the chickens are so bare of feathers because once it's started it's essentially impossible to stop. They are all doing it to each other. They're also bred to lay eggs almost every day, which on top of being painful makes their bones so weak that they have to be killed after about a year and a half because their bones break so easily.
And as a comparison, chickens in nature live up to 10 years. I was pretty devastated the first time I visited a large scale free range organic operation and realized how much the hens were still suffering. Very few of them, maybe 5 to 10%, even went outside because it's really problematic to run back inside in case of a predator. There was no overhead cover. Outside, the ground was barren and it really only served a purpose for some of the hens of dust bathing because it was so packed that they couldn't forage. On a smaller scale farm that was theoretically better, I came across a dead bird that had been trampled. On another smaller scale farm, I came across a chicken whose cloaca, the place where the egg comes out, was stuck permanently extended and the chicken was in a lot of pain. I wasn't sure how long she had been like that.
I don't like sharing these stories and I did it very quickly, but they really have stuck with me having witnessed all of that.
After spending a lot of time with chickens, I came away with a strong sense that they deserve to live their lives as fully as you or me.
Chantelle: Thank you for sharing those stories, Amy. I know it's really difficult to think about, but it's important for people to know, and it's something the animal agriculture industry works really hard to hide, so I think it's an important topic to touch on.
Shall we talk about sheep next?
Sheep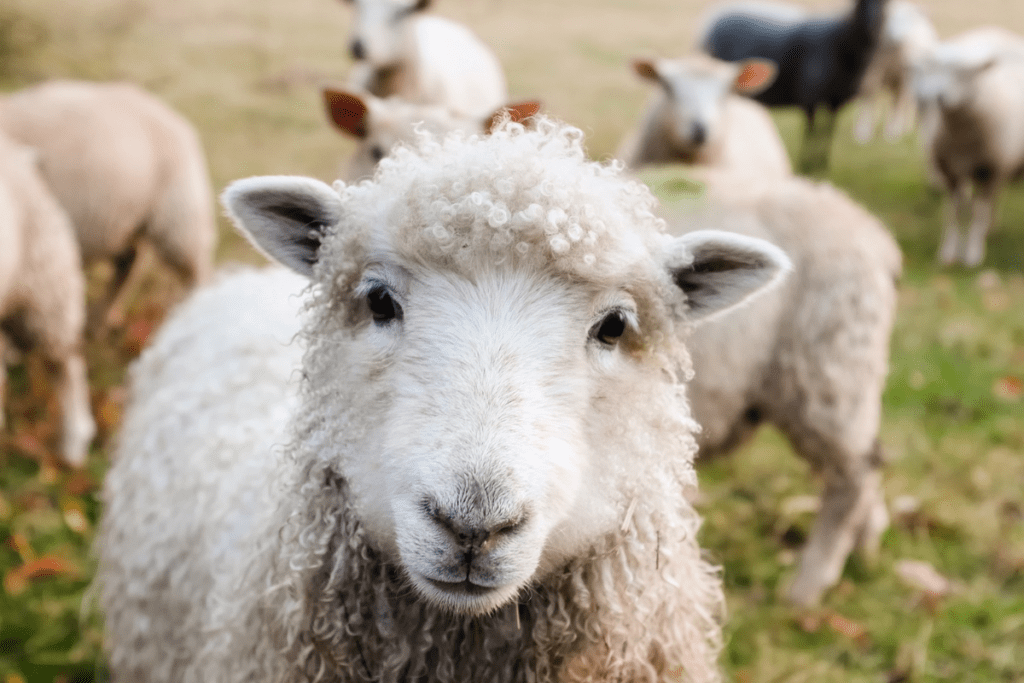 Sheep have a strong fear response
Amy: Sheep are fascinating as people make a lot of assumptions about them. They have a really strong fear response. In particular, they're prone to freezing in place. They often get mistaken for "enjoying" being shorn, and I put that in quotes because they're actually immobilized with fear.
In fact, most activities that people do relate to sheep are about motivating their fear drive, such as when dogs or vehicles are used to herd sheep.
So I wanted to share that because I think a lot of people see these things as normal, and it's normalized, but there are other kinder ways to motivate sheep with food incentives and things like that.
I thought we'd get that sad part out of the way. So now we can focus more on the ways that sheep are great.
Sheep socialization and communication
Chantelle: Definitely. Sheep have excellent memories. They can recognize up to 50 other sheep's faces and remember them for several years.
Like cows, they are herd animals. They can see behind them without turning their heads because their eyes are positioned on the sides of their heads, like you'll see with prey animals typically. They're known for their excellent sense of hearing; they can detect higher frequencies than humans. They can produce different vocalizations to communicate with each other including bleats, grunts, and snorts. A very fun fact is they even have accents. So just like humans, studies have shown that sheep in different regions have distinct vocalizations that reflect their local dialects.
Amy: I love that. Sheep will also spend time with other sheep they know and trust. They'll seek companionship when they're feeling stressed or anxious. They sleep in groups huddled together for warmth and protection. And when outdoors, they will sleep in shifts with some sheep standing guard while others sleep, and they tend to return to the same spot to sleep night after night.
Chantelle: When we talk about sheep, we also, I think, can transition very smoothly into goats because goats have a lot of similarities to sheep, so I don't think we'll cover them in full.
Goats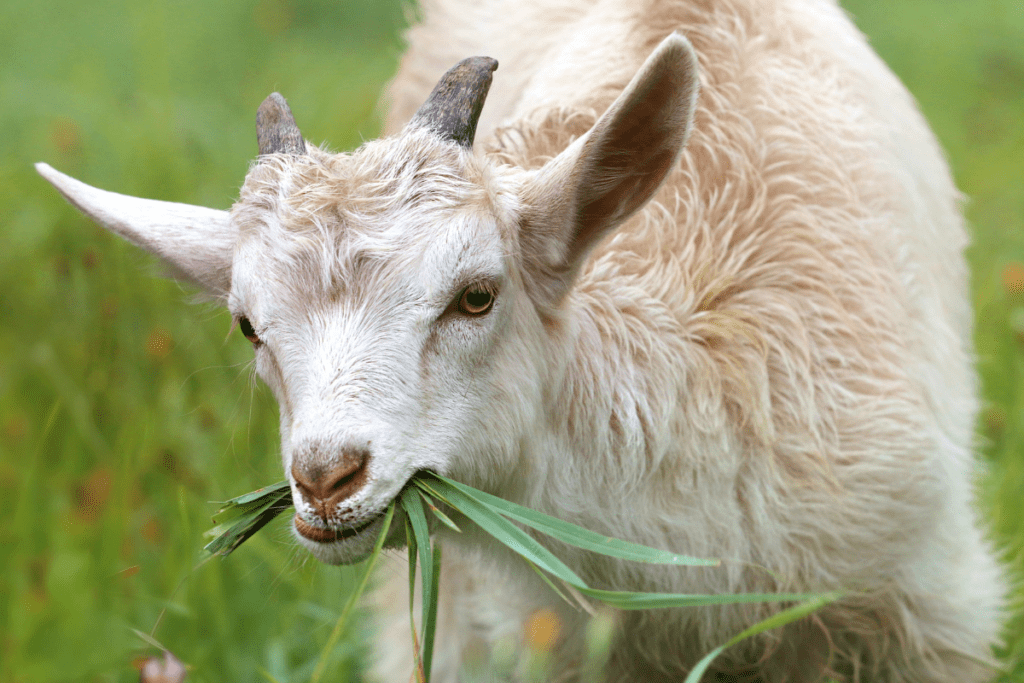 Chantelle: Goats are excellent climbers. They can climb trees and cliffs, and even steep mountainsides. They have rectangular pupils, which gives them a wider field of vision and better depth perception.
And they're known for being curious and intelligent, and they've been observed learning from each other and problem solving. They have a unique digestive system that allows them to break down tough plant fibers, so they're excellent foragers.
Many people think that goat milk is a better alternative to dairy milk, but realistically, the treatment and experiences of goats and cows raised for producing dairy is very similar. It limits their ability to express some of their important natural behaviors of grazing, roaming, and raising young. There are so many plant-based alternatives for dairy milk and goat milk on the market now, so you can find one to fit your personal preference.
Conclusion
Amy: Absolutely. I love talking about animal behavior and what animals enjoy. This is a really fun podcast to put together. What was your favorite thing that you learned in preparing for it?
Chantelle: I really love learning about how different animals raise their young. I think it's so interesting to look at the different family structures and the relationships they form with each other because they're really so much like us.I think it's so interesting to look at how complex those relationships can be.
What about you, Amy?
Amy: I really loved learning about sheep dialects. Certainly I know that wild animals like wolves and ravens tend to be regionalized in their communication styles, but it was fun to learn that domesticated animals are too.
I'm also constantly reminded of how much we all have in common.
Chantelle: Yeah, this was a really fun episode to learn about. I'm glad we got to touch on some of the more positive aspects of farmed animals and looking at their behaviors and what it looks like when they get to live a happy and fulfilled life.
I hope that you also got something out of this podcast as a listener, and I hope that you will join us again next month.
Next episode
Please join us next month as we delve into the topic of well-being for wildlife!