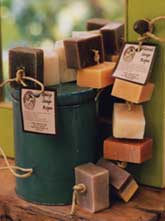 Last night when I arrived home after a long day at the VHS office, I was met with the most delectable aroma! A parcel from my favourite soap company, Kama Natural Soap, had arrived.
This company, based on Salt Spring Island, has been in business for over 17 years, and once you experience the products, you'll understand why. My sense of smell is acute and some odours can trigger my migraine headaches. However, I find the natural ingredients used to scent these products to be soothing and never overpowering.
.
In addition, all products (except the lip balm, which has beeswax) are completely vegan and ingredients are sourced ethically. Plant oils like exotic ylang ylang from Madagascar, eucalyptus and tea tree oils from Australia, lavender oil from France and bergamot from Italy are combined in imaginative ways, creating the most interesting and delicious fragrances. Shea butter is ethically sourced from the Takpo widows group of Northern Ghana. And palm oil is no longer used (although it might be listed on the old labels that need to be used up!) as it was just too difficult to determine how it was produced.
My favorite soaps: Lavender/comfrey, Licorice bar, Orange spice and Flowers and spice with shea nut butter and hemp seed oil (organic and Canadian). Other bath products include comforting mineral baths to die for (Lavender, Restorative and Flowers 'n spice) and bath oils.
Unique products include hand and foot balms, Belly/baby balm, body powder, lovely scented soy candles, soap-on-a-rope and baby soap.
What more could you ask for at Christmas when you're looking for the perfect gift? My biggest problem is that I want to keep everything for myself! Products are available at select retail locations or you can order online. Check out Kama's website or email for more information.