Don't miss official launch on April 25
Almost every day there are news reports about wild animals in urban areas. There seems to be an endless stream of stories about coyotes, bears, raccoons and other animals interacting (sometimes clashing) with humans, as we encroach on their habitats. While some animals adapt well to urban life, our co-habitation with them can still be difficult. That's why it's vital that we learn about these animals and understand why we are increasingly sharing the same space. It's also why VHS is pleased to recommend a timely new book that can help us do just that.
City Critters, by Vancouver author Nicholas Read, provides a welcome and comprehensive introduction to the incredible range of animals North Americans can find, sometimes literally, on their doorsteps.
Described by one reviewer as "meticulous and rich with fascinating anecdotes about various human/wildlife encounters", City Critters is ostensibly aimed at younger readers but animal lovers of any age will appreciate it.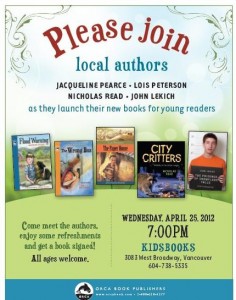 The book is being launched alongside several other books for young readers on April 25 at 7p.m. at Kidsbooks, 3083 West Broadway, Vancouver. All proceeds from the sale of City Critters will go to animal charities, including the Vancouver Humane Society.