The Vancouver Humane Society is proud to be the first external organization to receive the new BC Rescue Standards Accreditation!
This accreditation confirms that the VHS is in line with the Animal Rescue Standards of Practice, developed by Paws for Hope's Network Partners. The standards around organizational management, recordkeeping, financial management, fundraising, and more aim to ensure organizations are acting in the best interest of animals and the community.
Individuals … will be able to trust that the organization is acting in the best interests of both the animals they serve and the community.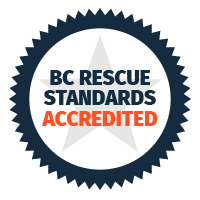 Donate to support the Vancouver Humane Society's animal protection work: