It's been another amazing year here at the Vancouver Humane Society and we have achieved so much for animals this year, thanks to the generosity of our supporters, like you!
We wanted to take moment to show you some of the highlights and achievements of our work here at VHS throughout 2019, thanks to your support: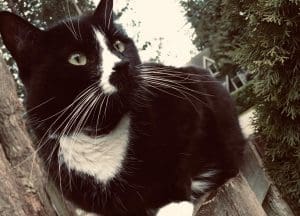 McVitie Fund emergency veterinary help
During the year, we've helped over 45 animals through our McVitie Fund, providing emergency medical help and spay/neuter to the animal companions of people on limited incomes.
Rodeo
Our Calgary Stampede campaign had coverage in 31 media outlets, many quoting our response to the death of six horses in the chuckwagon races when we called it a "national disgrace."
Nearly 1000 people participated in our email campaign urging the Stampede to suspend the chuckwagon races to see if it can be made safer. The Stampede says it will conduct a review the race. Another 6500 people joined us in emailing the Canadian Veterinary Medical Association to urge the association to explicitly oppose rodeos.
VHS also exposed the use of electric prods on animals at B.C.'s Quesnel Rodeo after exposing the same contractor using prods at the Chilliwack Fair rodeo.
We drew public attention to the decision by the Canadian Football League to hold a rodeo at the Grey Cup that resulted in more than 3200 people complaining to the CFL via our website.
Go Veg and Plant-based Plates
We know that the sheer number of animals being raised for food every year in Canada makes it a leading animal protection issue. In response, we're working hard to help individuals and institutions transition towards more humane plant-based diets and to reduce the high demand for animal products that drives factory farming.
In 2019, this included:
Continuing to support Meatless Monday campaigns that introduce meatless options at schools throughout Metro Vancouver.
Launching our new Plant-Based Plates initiative, which builds on the success of our Meatless Monday work and aims to transition public menus toward offering more humane plant-based options.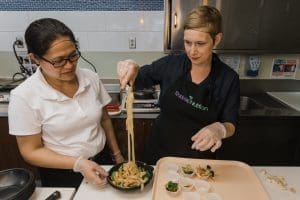 We kicked off the new project with a staff culinary training and guest chef pop-up at the BC Children's & Women's Hospital.
We've been engaging with policy-makers at the municipal and provincial levels in an effort to raise awareness and support for prioritizing plant-based foods in their policies. This includes a proposal, put forward in partnership with a group of students from Sutherland secondary school, to the District of North Vancouver Council that encourages examining municipal food spending and prioritizing plant-based options.
VHS is also participating in the City of Vancouver's Food Solutions Lab, which aims to research equitable ways in which the City and its partners can help shift diets toward those which are better for people and the planet.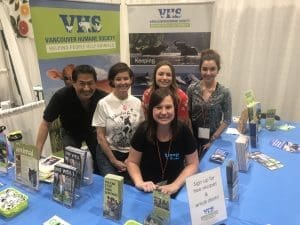 Outreach and events
As part of our Go Veg campaign, we launched a transit ad urging people to consider the ethics of meat consumption. The ad appeared on 13 Vancouver buses and 12 buses on the Burnaby B-Line. We also attended Vancouver's Veg Expo, promoting our message to the 15,000 attendees. We attended 25 other public events and distributed 5800 leaflets encouraging people to try a plant-based diet.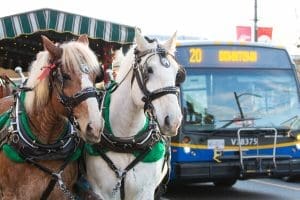 Carriage horses
We made complaints to the Yaletown, Commercial Drive and Kerrisdale business associations concerning their Christmas promotions, which included carriage horse rides, expressing our concerns about the welfare and safety of the horses. VHS also reached out to the Victoria City Council, calling for an end to horse carriages in the city.
Wildlife
VHS joined a local wildlife coalition working on getting wildlife-killing contests banned throughout the province. We signed a coalition letter to the Ministry of Forests, Lands and Natural Resource Operations' urging a ban.
Communications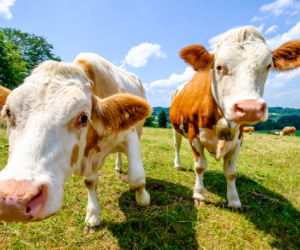 VHS published ten opinion editorials in various news media during the year, making the case for better treatment of animals on a number of issues. We had coverage in more than 50 media outlets, published 46 blog posts and used social media to reach thousands of people to change hearts and minds in favour of compassion toward animals. We also engaged with our supporters and the public via action-alert emails and our own newsletter and e-newsletter.
Thank you for helping us achieve all of this for animals and so much more!
Of course there is still so much more to do in our work for animals in 2020 and despite our efforts, animals continue to suffer everyday. Please consider making an end of year donation, to allow us to continue advocating on behalf of all animals today and for the future.
On behalf of all of us here at the Vancouver Humane Society, thank you, Happy Holidays and we wish you a Happy New Year!