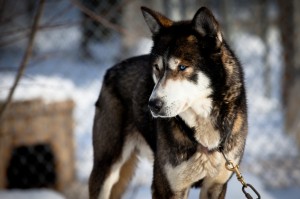 The sentence given to Robert Fawcett for his animal cruelty conviction in the case of the slaughter of 56 sled dogs, shows that our justice system still places a low value on the lives and welfare of animals.
Fawcett received three years probation and a fine of $1500 despite being convicted of "causing unnecessary pain and suffering to animals" in a case that shocked and outraged people around the world. The maximum penalty for the offence is five years in jail and a $10,000 fine.
VHS believes a heavier sentence, including jail time, would have been appropriate and would have sent a signal to the public that animal cruelty is a serious crime that will not be tolerated in our society.
It is equally disappointing that, despite the public outcry over the massacre of the Whistler sled dogs, it is still perfectly legal for sled dog operators to shoot unwanted dogs. It is also still legal for sled dogs to be tethered or chained outdoors for long periods, a practice that is clearly inhumane. While new regulations have been applied to the sled dog industry, no new resources have been made available to the BC SPCA to enforce them.
The B.C. government's decision to increase the penalties for convictions under the provincial Prevention of Cruelty to Animals Act (prompted by the case), was welcome. However, this does nothing to prevent healthy sled dogs from being shot when they are surplus to an operator's requirements and there are no homes available for them.
The sad truth is that sled dogs will continue to be commodities open to exploitation for profit by an industry that is not known for putting their welfare first. It should be remembered that Mr. Fawcett was not just some rogue operator or bad apple. He served as vice-president on the board of Mush with Pride, a leading international sled dog industry group, until he was voted off when the Whistler massacre became public knowledge. He was a well-known and leading figure in the sled dog world. Surely, that says something about the industry as a whole.
In our view, dogs should be companions, not commodities. They should only be euthanised when they are too old or too sick to live comfortably – and euthanasia should be by lethal injection carried out by a vet. They should not be left tied to posts for long hours or pushed to their physical limits in races just to entertain people. They should be cherished for their intrinsic value, not their economic value.