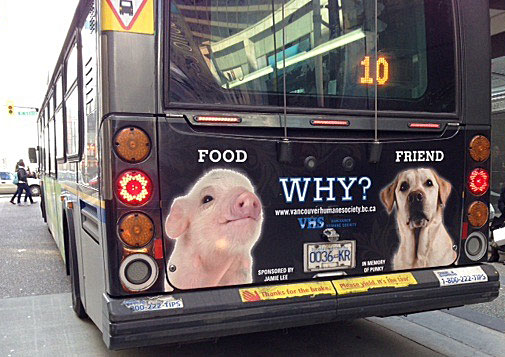 Our ad "Food, Friend, Why?" raises an important and provocative moral question: why do we eat one animal and befriend another? Most of us wouldn't dream of eating a cat or a dog, but when one considers the intelligence and sentience of farmed animals, it doesn't make sense to consider cows or pigs or chickens as somehow so different.
We certainly don't expect everyone to become vegetarian. However, it's simply a fact that reducing or eliminating meat is the most effective way to stop animal suffering. Check out Raising the Barn or Eat Less Meat to see how animals are raised for food and why meat production is not sustainable.
We would like to run this ad again, but we can only do it with your help. The ad company has been very generous – they usually extend the ads an extra week or two without charging us. This means your donation towards this project can accomplish even more!
[thermometer raised=6222 target=7000 height=400 align=left currency=$ alt=off]
You are amazing! We are only $778 away from our goal of $7,000. I know there are some of you out there who think the ad is important, but haven't had time to donate yet. Can you help? It's easy – just click the 'donate now' button. Even a small amount helps – if 105 people gave $10, we'd reach our goal! Thank you for all you do for animals.
Have you ever seen a hen chasing a ball? Check out this video captured by Director of Farm Animal Programs Leanne McConnachie on a recent visit to Rabbit River Farms (a producer of certified organic, free-range eggs).
[iframe src="http://www.youtube.com/embed/6uD3D6rYHU4″ frameborder="0″ allowfullscreen]