By Debra Probert, VHS Executive Director
I love holidays like Thanksgiving and Christmas, because they give me a chance to serve vegetarian/vegan dishes to my meat-eating friends and family. These holidays shouldn't leave anyone feeling deprived – rather, they should give our omnivorous friends food for thought (quite literally!) about how easy it is to skip the dead turkey for something more tasty, healthy and humane.
Easy and delicious ways to cut corners are the great veggie roasts that are available. The first is Tofurky (available at Capers Whole Foods, Choices and most organic food stores). I tasted this for the first time at a PETA event at a Toronto hotel. It was cooked longer than the packaging recommends, using more oil. The result was a crispy outside, with the look and texture that more closely resembles a well-cooked turkey. It was delicious! Of course, you can always just follow the package directions for a very tasty product. I do mine in a closed roasting pan with lots of olive oil mixed with soy sauce.
Although I haven't tasted the Celebration Roast yet (available at Karmavore Vegan Shop, www.karmavore.ca) I'm told it's fantastic (first-hand, from the VHS office manager , Lauren). She says that it tastes spicier than the Tofurky. And while the Tofurky stuffing is a more traditional one (sage, bread crumbs, rice) the Celebration Roast stuffing is made up of apples, butternut squash and mushrooms and is, she says, equally delicious.
Gardein (based right here in Richmond, BC!) has a new product called 'savory stuffed turk'y'. Each package has two servings, including gravy, and like Tofurky, comes frozen. According to the Gardein website, it's available everywhere – IGA, Save-on Foods and Safeway. I haven't tasted it yet, but if Gardein's other products are any indication, it'll be great.
For the first two, you're going to have to either buy or make some meat-free gravy. Tofurky makes a veggie 'giblet' gravy that's excellent – I always make sure to have lots on hand for the mashed potatoes. However, if you want to make gravy, there are plenty of recipes. Here's one from VegWeb.com.
When I was growing up, my favourite dish at holiday meals was the dressing, and I loved it soaked in gravy. Although the Tofurky and the Celebration Roast both come stuffed, I always bake an extra bowl of dressing in the oven. It's great the next day in cold Tofurky or Celebration Roast sandwiches, with lots of salt and pepper! Here's a link to my favourite stuffing recipe.
If you're really feeling ambitious, you might want to make a veggie roast from scratch. Lauren has made this complete dinner from Vegan Yum Yum and found it worked perfectly (even though there's a warning on the website that you might have trouble making the seitan. If you're nervous, seitan can be purchased ready-made at any Capers Whole Foods, Choices Market or any organic grocer).
One of the dishes on this link is roasted tomatoes. If you've never had them, you don't know what you're missing. And they're so easy! Just halve any kind of tomatoes, toss them with a bit of olive oil and place on a baking sheet with parchment paper. Bake in a 350 degree oven or toaster oven until they are shrivelled and the skins are beginning to turn black. They're great tossed with almost anything (I like them with veggie sausages).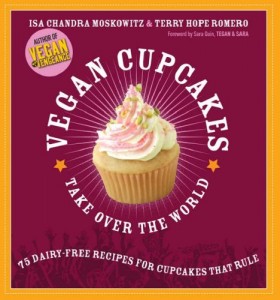 What would a good meal be without dessert? If you haven't tried one of the recipes from the book Vegan Cupcakes Take Over the World, then you haven't lived. We greedily look forward to birthdays at the VHS office, not because we're generous, but so we can try a different flavour. You can get the book at almost any bookstore. But just in case you've run out of time, here's my favourite recipe.
So there you have it, a Thanksgiving dinner to die for. Wait a minute – nobody had to die! What better way to celebrate Thanksgiving!!